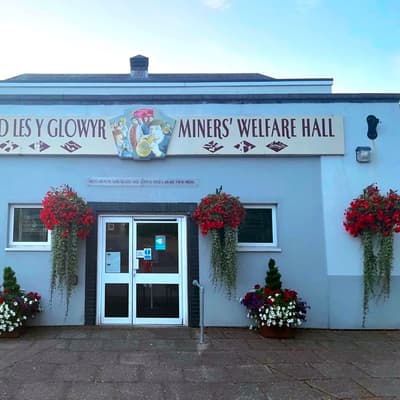 Silver screen to return to Ystradgynlais
Welfare Ystradgynlais succeeded in financing tenders for the installation of a new projector.
The funding means the Swansea Valley community is now back on screen, after a catastrophic equipment failure following the Covid lockdown prevented them from screening films at the site, which is delighting theater audiences cinema for nearly 90 years.
Becky Roberts, Marketing and Local Manager of Ystradgynlais, explained:
"The Welfare Ystradgynlais is a charity that relies on grant funding and revenue from ticket sales and donations to keep doing what we do, so it was a big blow for us when our faithful old movie projector stopped working in the middle of the movie.
"This not only caused a huge disruption to our cinema audience, we had to postpone all of our scheduled screenings and process refunds, we also had to find £30,000 to buy a brand new projector as ours was beyond repair. We are truly grateful to all of our customers for their patience and loyalty and especially to those who requested a credit note for a future movie screening instead of a cash refund, giving us that little extra financial support to a such a difficult time.
"We've been proudly showing films since 1934, in the digital age we also show live concerts from around the world with regular screenings from the Royal Opera House and National Theater on the South Bank, we also do most projector for community and artistic projects.
Wellbeing hopes to have its projector delivered and installed within the next few weeks.
Becky added: "We would like to extend a huge thank you to Ystradgynlais Town Council for their funding and their continued belief that we provide excellent service to the community and a sincere thank you to our hardworking Friends of the Hall volunteers who fundraise on a weekly basis, allowing them to make a massive donation of £5,000.
"We were also very relieved and grateful to the Powys-based Margaret Davies Charity who granted us £10,000, the final piece of the jigsaw that allowed us to move forward with the purchase of our system. state-of-the-art cinema projector."
The Welfare staff are currently working on their new film schedule with back to back screenings of Top Gun and Top Gun: Maverick, Baz Luhrmann's Elvis, Jurassic World Dominion, Minions: The Rise of Gru and Downton Abbey: New Era already on sale .
The Welfare screens films and live shows as well as music, theater and dance performances as well as a host of community activities.