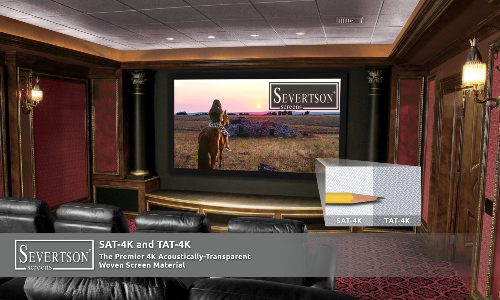 Severtson Screens and Espedeo to collaborate during CEDIA Expo 2021
Severtson Screens, a manufacturer of projection screens for the residential and commercial markets, announced its partnership with Espedeo Holdings Limited, a GDC Technology company, at CEDIA Expo 2021. Severtson will supply its famous SAT-4K cinema screen from the Deluxe series in Meeting Room # 116 to display the images projected by the Espedeo Supra-5000 RGB Plus (Supra-5000) laser phosphor cinema projector.
"We are proud and excited to be working alongside Espedeo Holdings during CEDIA Expo 2021," said Toby Severtson, President and CEO of Severtson Corp. "The Supra-5000 multi-purpose is a formidable projector, and our SAT-4K is its ideal partner for many applications and installations in a multitude of markets, including home theater, commercial, professional AV, and more.
The Espedeo Supra-5000 RGB + laser phosphor cinema projector is designed for mini-theater installations without a cabin and no hidden box and for a true cinema experience at home and at sea. The compact 5000 lumen laser projector opens the door to non-traditional exhibition options such as hotels, screening rooms and yachts.
"CEDIA Expo is the perfect environment to launch our award-winning Espedeo Supra-5000 RGB laser phosphor cinema projector to AV integrators," said Patrick Artiaga, Senior Director of Business Development, Projectors Division. "To best display encrypted DCP content from Hollywood studios as well as content streamed from the Internet, you need a top-notch screen. Supra-5000 with the Severton SAT-4K screen is ideal for a personalized home theater.
Severtson's SAT-4K offers a projection screen up to 15'10 " and, like its TAT-4K screen, is also available as an option for 4K fixed-frame projection screen solutions with fine / zero bezel from Severtson. Acoustically transparent, the entire soundstage can be placed directly behind the screen on the same horizontal axis, allowing vocals and special effects to be fully synchronized with the brilliant images displayed. According to the company, this will allow for a completely immersive audio and video experience.
Available in Impression, Deluxe and Deluxe Curved configurations, Severtson claims that the SAT-4K display meets or exceeds all industry standards for optimal video and acoustic performance, delivering reference quality reproduction of the digital image. combined with true fidelity to the original soundtrack.