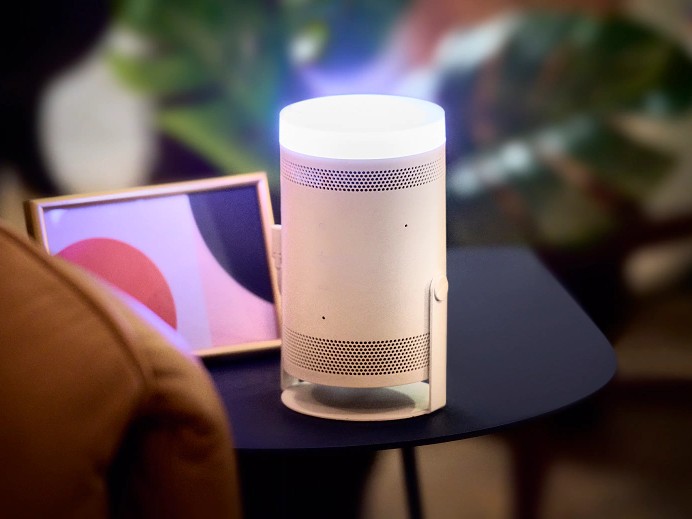 Samsung Freestyle Portable Projector with 32,000mAh Battery Now Discounted by up to US$200
The Samsung Freestyle projector is currently on sale. Customers in the United States can now purchase the device for US$597.99 on Amazon, saving US$200 off the regular retail price of US$797.99. A similar offer is also available directly from Samsung. Customers in Canada can also get a CA$250 (~US$188) discount on the device, which is currently selling for CA$898 (~US$677) on Amazon; the projector typically retails for CA$1,148 (~US$865). Again, the offer is also available through the Samsung store. Additionally, you can find deals on Freestyle in Europe. For example, the gadget is reduced by 9% at Amazon in France, sold for €659 (~684 US$) instead of €728 (~755 US$).
The Samsung Freestyle HD 1080p projector can be rotated 180°, making it easy to project onto a wall or ceiling. The portable gadget is lightweight, weighing 1.6 lbs (~0.7 kg) and can project images up to 100 inches (~254 cm) wide. The device has a brightness of up to 550 lumens and can last up to three hours thanks to a 32,000 mAh battery.
The device can automatically focus and optimize image size to speed up setup, and built-in speakers deliver a 360° audio experience. Additionally, you can stream content from a smartphone via Apple AirPlay 2 or Samsung SmartThings, and you can control the gadget with voice commands. Deals are marked as "Limited Time" or "Black Friday Deal", so they are unlikely to last long.
Buy the Samsung Freestyle Projector on Amazon