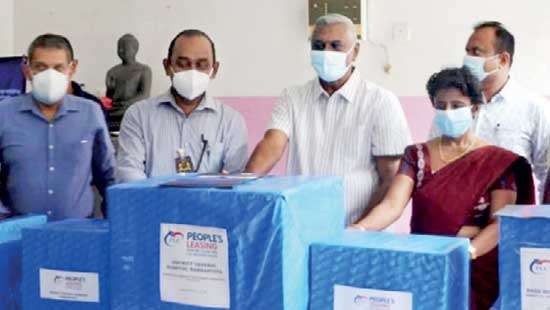 People's Leasing donates medical equipment to H'tota, Tangalle and Beliatta hospitals – Other
---
Irrigation Minister Chamal Rajapaksa symbolically hands over essential equipment to Dr DRN Saranasinghe, medical superintendent of Tangalle hospital, flanked by Minister of Youth and Sports Namal Rajapaksa (R) President of the People's Bank and Credit- People's Leasing, Sujeewa Rajapaksa (third from left) and People's Leasing CEO / General Manager Shamindra Marcelline (second from left)
People's Leasing and Finance PLC showcased essential medical equipment to bolster COVID-19 testing and treatment at three public hospitals in the South region, including Hambantota District General Hospital, Tangalle Base Hospital and the Beliatta divisional hospital, at a cost of over Rs. 6 million.
The handover ceremony was chaired by the Minister of Irrigation and Minister of State for National Security and Disaster Management and Minister of State of the Interior Chamal Rajapaksa, the Minister of State for Aviation and Export Zone Development DVChanaka and Minister of Youth and Sports Namal Rajapaksa.
The handover took place in the distinguished presence of the President of the People's Bank and People's Leasing & Finance Sujeewa Rajapaksa and the Managing Director / Managing Director of People's Leasing and Finance Shamindra Marcelline and the heads of People's Leasing and Finance PLC .
The medical items included a PCR machine at Hambantota District General Hospital accepted by Dr VGSC Ubeysekara, hospital director, and essential equipment kits for Tangalle Base Hospital and Beliatta Divisional Hospital have accepted by Dr DRN Saranasinghe, Medical Superintendent of Tangalle Hospital and Dr MD Priyantha, District Physician of Beliatta Hospital respectively.