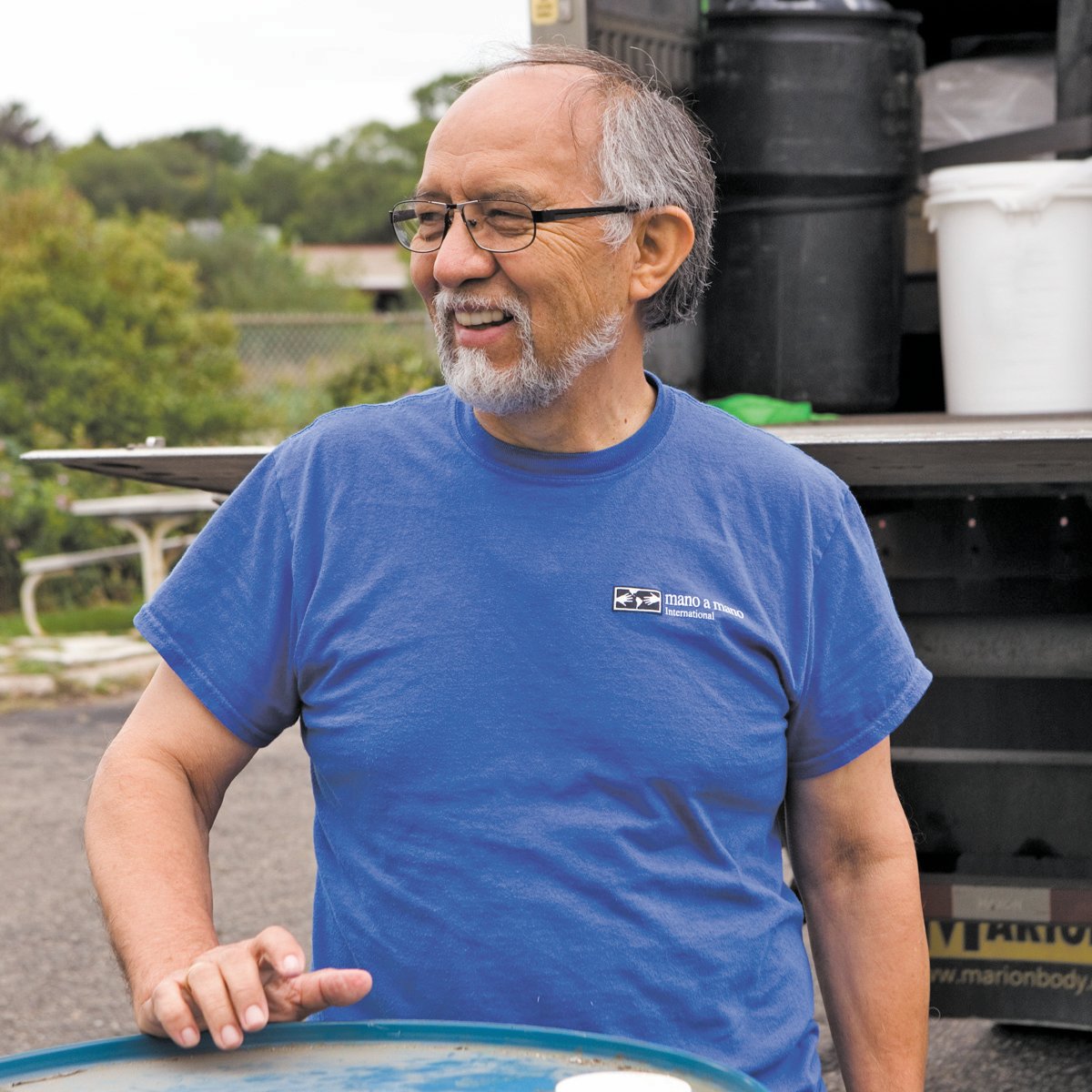 Nonprofit sends medical supplies to Bolivia – and shares surpluses at home
[ad_1]
By MARGIE O'LOUGHLIN
Joan and Segundo Velasquez founded Mano a Mano in 1994 with the goal of saving excess medical supplies from the Minnesota landfill and shipping them to Bolivia, where those supplies were desperately needed.
Joan served as a Peace Corps volunteer in Bolivia. Segundo was born there and moved to Minnesota as an adult. His brother Jose, a pediatrician working in Bolivia, asked Segundo to bring home medical supplies whenever he came to visit him. Over the years, the amount of supplies has grown from a few items in a suitcase to several shipping containers each year.
Twenty-seven years after its inception, Mano a Mano (925 Pierce Butler Route in St. Paul) is a well-established non-profit organization that has built over 300 infrastructure projects across Bolivia – from clinics and schools to roads and water reservoirs. All of these projects were carried out in collaboration with local communities, and all of them continue to operate today.
Nate Knatterud-Hubinger has been the Executive Director of Mano a Mano for six years. He said: "The majority of supplies and equipment donated by Mano a Mano are shipped to Bolivia. Our main mission is to help communities in Bolivia, but we are happy to partner with local organizations when we have more than we can use. We want to keep medical supplies out of landfills and incinerators in Minnesota, and get them to people who can use them. "
He continued: "Access to medical care is limited in many rural Bolivian communities. Medical supplies and equipment are prohibitively expensive, government-run and nonprofit health programs often lack the most basic items. Lack of supplies compromises their ability to care for those with limited resources. Mano a Mano's medical supplies and community clinic programs are helping to address these issues.
Wednesday is donation day
Orthopedic supplies such as wheelchairs, walkers and crutches are in particular demand. Mano a Mano staff and volunteers visit the Goodwill store on Fairview and University avenues in St. Paul every Wednesday afternoon and search the trash for these mobility items.
Individuals can also drop off lightly used medical supplies and mobility items at the Mano a Mano office on Wednesdays. There is a well marked drop box in the parking lot. Unopened medical gloves, gauze, braces, crutches and wheelchairs are welcome. Items are stored in their warehouse in St. Paul until there is sufficient volume (and funding) to fill a shipping container.
A long trip
Once filled, each container is trucked from St. Paul to the East Coast and shipped along the East Coast and through the Panama Canal. The sea trip ends at a port in Chile, as Bolivia is a landlocked country. The container is back on a truck to La Paz, Bolivia, where the cargo must clear customs before reaching its final destination in Cochabamba, Bolivia. From start to finish, the trip lasts three to five months.
According to Knatterud-Hubinger, "It costs almost $ 25,000 to ship a 40-foot container. Because the commercial value of each container would be at least $ 300,000 to $ 500,000 on average, the shipments are absolutely worth it. But there are some items, like bath chairs and dressers, that are more useful on the state side than in rural Bolivia. "
Distribution of mobility aids
Last year, a physiotherapist approached Mano a Mano with an idea. She spoke to staff about patients in her Twin Cities who either do not have health insurance or whose insurance does not cover the equipment needed to live with independence and dignity. For example, a patient who needs a wheelchair may have a wheelchair, but not a pierced chair or a bath chair.
The physiotherapist's question in Mano a Mano was: "Could Twin Cities therapists and other health professionals access Mano a Mano's surplus medical equipment for their patients?" "
Knatterud-Hubinger said: "We have embarked on a pilot project. Physiotherapists, occupational therapists and social workers identify their patients whose needs are not being met. They check with Mano a Mano if we have the necessary items and come to our warehouse on a scheduled Saturday morning to pick them up.
"Physiotherapist Sharon Kimble shared this story of the difference our pilot project made for one of her patients. Ikran, a 26-year-old refugee from Ethiopia, was paraplegic. She lived with her family in Minneapolis, where her younger brother helped her with all of her care: carrying her from one place to another in their house, lifting her on the toilet, and bringing water to her bedside to bathe in. with a sponge.
Kimble located a sliding chair in the Mano a Mano warehouse that could help Ikran become more independent. Once Ikran was lifted into the sliding chair, she was able to handle much of her personal care. Kimble said, "This is expensive equipment, equipment that medical assistance would never have paid for. The sliding chair has transformed the life of my patient and her family.
Moving forward
Reaching rural communities can be difficult due to the altitude: many communities served by Mano a Mano are in the Andes mountains, 8,000-14,000 feet above sea level. Roads are generally bad and the weather is unpredictable. Rural communities are often overlooked because they are so difficult to access.
The impact of poverty hits Bolivian mothers and children hardest. The maternal mortality rate in Bolivia is among the highest in Latin America.
Knatterud-Hubinger said: "We are always looking for volunteers to help sort out medical supplies. It's very satisfying to see the volume of usable equipment and supplies that we divert from landfills and incinerators: materials in perfect condition, like a prepackaged surgery kit with one item missing. We currently require indoor masks and proof of vaccination for volunteers. "
To learn more about donating or receiving donated medical equipment and supplies, visit the Mano a Mano website at www.mamoamano.org. Contact Operations Manager Carmen Paredes Dockry at carmen@manoamano.org for any questions about volunteering or in-kind donations.
[ad_2]