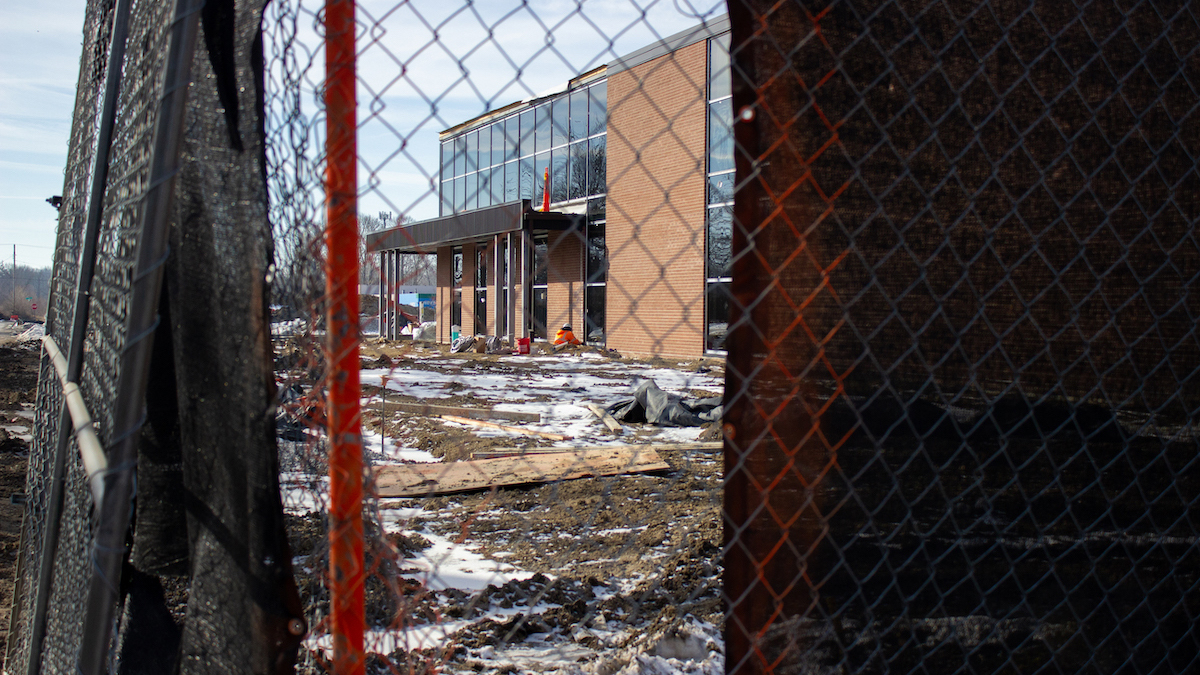 New medical manufacturing plant gets nearly all minority-owned contractors
A new manufacturing plant that will produce medical equipment in northeast Indianapolis is nearing completion, with most contracts going to black-owned businesses.
When Cook Medical and Goodwill of Central and Southern Indiana announced their partnership to build the facility in November 2020, they set a goal for all contractors to be minority-owned.
To date, 97% is minority-owned and the remaining 3% is from entrepreneurs owned by women, veterans or people with disabilities, according to Goodwill.
Ask anyone involved in the project how it got nearly every minority-owned contractor, and Akilah Darden's name will pop up.
Cook Medical brought in Darden to recruit a general contractor and ensure the sub-contractors were diverse. There are a total of 20 contractors, and 16 are black-owned, Darden said. The general contractor is Harmon Construction, which is black-owned.
"It's unheard of," Darden said. "I don't think it's been done in the country, not at this level."
Darden called the process exhausting and said many people thought it wouldn't be possible to get that many minority-owned contractors on a $16 million project. Darden has worked with community development corporations, economic development groups, and organizations that work with people leaving prison.
"It went on and on and on," she said.
Darden's advantage is that she can talk construction, having been with the company for 23 years. She worked with contractors to see where the best fit was for the project and even helped them recruit workers at job fairs and on social media. Darden guessed she had helped around 20 people get jobs, including some who messaged her after seeing videos she posted on Instagram.
Bill Harmon, CEO of Harmon Construction, said it was difficult to find as many minority-owned contractors as they needed and credited Darden for his work. Harmon said he remembered another project that had this level of participation from minority entrepreneurs, about 30 years ago with Eli Lilly.
"We don't get opportunities like this every day," Harmon said. "It's big."
The 40,000 square foot facility will manufacture medical devices such as drainage catheters and needles for Cook and is expected to create 100 jobs initially. The workers will be employed by Goodwill, and the goal is to hire from the community around the facility location at 38th Street and Sheridan Avenue. The Indianapolis Foundation and the Northeastern Unification Alliance are also part of the project.
Juanita Easterling, who will be the plant's plant manager, grew up in Detroit but was born in Indianapolis and lived in the neighborhood as a child.
"The project for me is so fulfilling," she said.
In addition to the manufacturing facility, Cook Medical added a grocery store to address food access issues. The store, Indy Fresh Market, will be across from the new facility. Two men from the Arlington Woods neighborhood will own the store.

This story was originally published by the Indianapolis Recorderpartner of WFYI. Contact editor Tyler Fenwick at 317-762-7853. Follow him on Twitter @Ty_Fenwick.