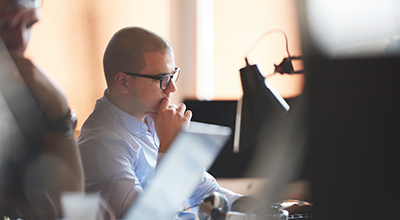 India's Print Market Sees 20.5% YoY Growth in 2Q22 as Improved Business Sentiment Drives Business Demand, IDC Reports
INDIA, August 25, 2022 – According to the latest data released by International Data Corporation (IDC) Worldwide Quarterly Hardcopy Peripherals Tracker, India's print market recorded shipment of 0.84 million units in 2Q22 (April-June), growing 20 .5% year over year (YoY) however, down 16.7% quarter over quarter (TQ). The printing market includes inkjet printers, A3/A4 laser printers and copiers, serial dot matrix printers and line printers.
The inkjet segment grew 23.1% year-over-year following improved inventory availability compared to the prior year, same period. From a QoQ perspective, however, the segment was down 14.6%, following a slight lull in demand from the consumer segment. With attendance declining in 2Q22 as well as school and college summer vacations, market demand is expected to increase in 3Q22 in anticipation of the holiday season selloff.
The laser printer segment (including copiers) grew 19.6% year-on-year, even as vendors struggled to find popular entry-level models. The laser copier segment recorded an even better annual growth of 82.0%. This comes on the back of demand from government and the banking segment, which continued its momentum in the second quarter. Additionally, the market finally saw a recovery in large enterprise demand in 2Q22 that had stalled since COVID.
"Color laser copier shipments broke pre-COVID levels, reaching 15.1% market share, the second highest in history. This comes on the heels of the introduction of new color models at the end of 1Q22 accompanied by the government's growing appetite for the same.On the laser printer-based front, a gradual movement in the color segment of the speed range from 1-40 ppm to 40+ ppm has been observed as a result of changing market demand, complemented by lucrative programs on high-speed color laser printers by vendors," said Bani Johri, Senior Market Analyst, IPDS, IDC India.
Globally, Top 3 Companies in India Hard Copy Devices (HCP) Market:
HP Inc. (excluding Samsung) maintained its leadership in the overall HCP market with a market share of 43.8% and annual shipment growth of 45.1%. The Inkjet segment led the growth, in which HP grew 70.5% year-on-year, increasing its market share to 37.3%, following the increased availability of its ink tank models.
In the Laser segment (including the copier segment), HP grew by 26.8%. HP particularly advanced in the laser copier segment with QoQ growth of 5.3%, taking the third position due to its increased focus on SMBs and large accounts.
Epson occupied the second position in the overall HCP market with a market share of 24.3% while recording marginal year-on-year growth of 0.2%, as it continued to face challenges in securing sufficient inventory in due to production issues, particularly in the ink tank multifunction printer segment. In the inkjet segment, it occupied the first market position with a share of 38.3%.
cannon recorded a year-on-year growth of 9.9% and held the third position in the overall HCP market in India, capturing a unit market share of 20.6%. In the inkjet segment, Canon saw year-on-year growth of 13.4% thanks to the increased availability of its single-function models. In the laser segment (including laser copiers), Canon maintained its second position with a market share of 22.0% while growing 5.1% year-on-year. In the laser copier segment, Canon recorded 82.3% year-on-year growth and continued to lead the copier segment with a market share of 35.9% following the launch of its new color models.
IDC India Printing Market Outlook:
"Most sellers have raised prices by 3-8% across all models, with some having already introduced a price increase earlier in the year. consumer segment is expected to remain sluggish in 3Q22 as most of the demand appears to have been satisfied in recent quarters.The upcoming holiday season as well as online festive sales could provide a much-needed boost to the consumer market adds Johri.
Note: IDC defines Hard Copy Devices (HCP) as the group of hardware technologies that connect to a computer, digital camera, camera phone, or memory card to capture, print, or display content. IDC classifies paper devices into printers, multifunction devices (MFPs), single-function digital copiers (SF DC), and single-function fax machines (SF FAX).
— Ends —
For more information on this report, trends or analyst questions, please contact Shivani Anand, Senior Marketing Specialist at sanand@idc.com . You can also follow IDC India Twitter and LinkedIn pages for regular updates on IDC research and events.
About IDC Trackers
IDC Tracker products provide accurate and timely market size, vendor share, and forecasts for hundreds of technology markets in more than 100 countries around the world. Using proprietary research tools and processes, IDC Trackers are updated semi-annually, quarterly, and monthly. Tracking results are delivered to clients in user-friendly Excel deliverables and online query tools.
About IDC
International Data Corporation (IDC) is the world's leading provider of business information, consulting services and events for the information technology, telecommunications and consumer technology markets. With more than 1,300 analysts worldwide, IDC offers global, regional, and local expertise on IT technology, benchmarking, and procurement, as well as industry opportunities and trends in more than 110 countries. IDC's analysis and insight help IT professionals, business executives, and the investment community make fact-based technology decisions and achieve their key business goals. Founded in 1964, IDC is a wholly owned subsidiary of International Data Group (IDG), the world leader in technology media, data and marketing services. To learn more about IDC, visit www.idc.com. Follow IDC on Twitter at @IDC and LinkedIn. Subscribe to the IDC blog for industry news and insights.
All product and company names may be trademarks or registered trademarks of their respective holders.
Cover