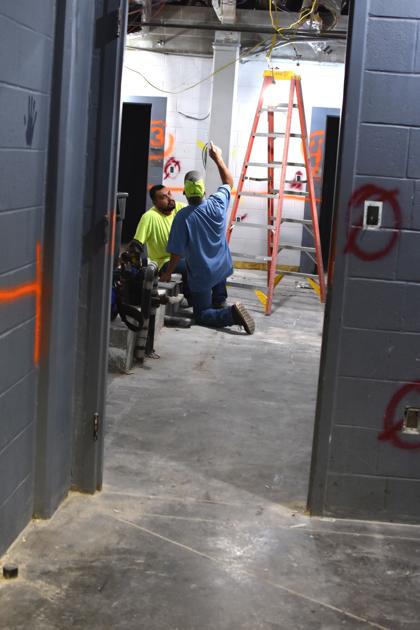 Construction of the prison begins phase 2 | New
[ad_1]
The second phase of the Amos G. Ward Detention Center renovation project has started.
During this phase, construction crews will expand the reservation area and increase the number of cells from four to eight.
"We're going to almost double our space for inmate housing," Rogers County Deputy Sheriff Jon Sappington said. "The other key element was to move the attorney / client visits as well as the inmate visits for the public from the front window to the overnight sureties."
There will also be a new hall, two visiting rooms for lawyers and two kiosks for families.
The $ 3.4 million project, awarded to Miller-Tippens Construction Company, is broken down into three phases.
The first phase was to move the Evidence Room – which is complete except for a few minor and cosmetic items which will be completed during the third phase.
The second phase is to expand the reservation area.
The third phase is to add two more pods where the current lobby is located.
"It will be the biggest and heaviest part," said Rogers County IT administrator Bronson Smith.
Although they do not yet have final numbers, Smith said they plan to add 60 to 70 beds, which would bring their maximum capacity to more than 300.
The first phase of construction began in April and ended on September 13. The second phase has started immediately and is expected to be completed in mid-February, weather permitting. Once phase two is completed, phase 3 will begin.
Smith said they were also able to revamp the access control system and update the entire prison control system to integrate with the camera system and the records management system.
"One of the most immediate things we could see was a revamped new camera system," he said.
Smith said they have 142 cameras and have added more views.
Amos G. Ward Detention Center was built in 2000 and analog cameras have not been updated since the facility was built.
"Since 2000, the only time we've upgraded this camera system was around 2012 or 13," Sappington said.
He said they installed new servers, but the original analog camera remained.
"If you can imagine – a 2000 camera compared to a digital camera today," Sappington said.
The need for this project has arisen due to an increase in the prison population due to the McGirt decision, COVID and the Department of Corrections stop receiving prisoners, Sappington said.
"Most of these issues have been somewhat resolved," he said. "As a result, our account went down."
The maximum capacity of the facility is 250, but they've seen numbers as high as 332.
"It was before COVID for one of these issues," Smith said.
Sappington said that generally the slow time for inmate admission is fall and winter. He said he hoped the number would continue to decline as bookings expand.
"One of the challenges with COVID and this pandemic is that we were originally housing inmates at George POD and could isolate them before handing them over. In doing this renovation, we had to implement tests and do different things to maximize the use of this space.
Smith said this project would help them deal with inmates who may have COVID.
"After that, it will be more manageable to run the prison in this COVID time," Smith said. "With the additional holding cell in advance when booking, with the addition of these two modules, this will allow us to have more isolation modules for the quarantine in order to prevent detainees currently housed may be exposed to a new reception. "
At its highest, the prison had 40 active cases and had to lock down multiple pods.
"It took over two weeks," Sappington said.
[ad_2]