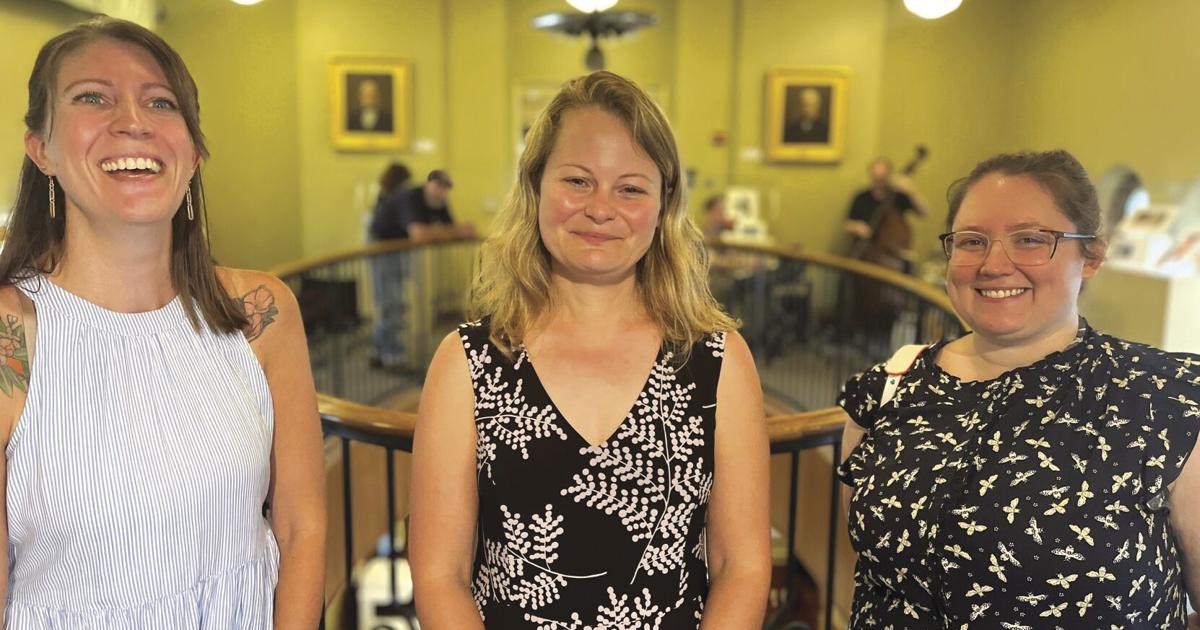 Changing of the Guard: Laconia Public Library Makes New Hires | Local News
LACONIA — As you visit the Laconia Public Library this summer, you'll see new faces, as well as familiar faces in new roles. Since this spring, the library has welcomed a new youth librarian, a youth library technician, an adult services librarian and a library director. Of the group, half are new hires and the other half, including library manager Deann Hunter, are employees stepping up to take on bigger roles.
These personnel changes bring an influx of new ideas, retain in-house experience and knowledge, and bring the library to a new threshold.
"It all led to this moment," John Moriarty, chair of the Laconia Public Library Board, said in an interview. "We have removed most barriers and are ready to provide the best possible service."
Moriarty underlined that the collective efforts of the staff over the past decades have allowed LPL to look to the future with confidence while continuing to provide traditional high level services.
The library hosted a reception to welcome its new hires and to mark the transition from incoming director to outgoing director Randy Brough on June 14.
In his remarks at the event, Moriarty, who became a library trustee in 2001 and became president in 2015, praised Brough for the amount of evolution and adaptation he had overseen at the library during his tenure. mandate.
Brough became director of the library in 2001. Since then, the library has expanded its parking lot, converted to a digital card catalog, adopted the Biblionix digital platform, undergone significant political development, started offering eBooks and Audiobooks and of course built a great addition. According to Moriarty, just under £3million was distributed to LPL while Brough was manager.
These changes to the library were made "in an ever-changing environment over the past 25 years, where every five or six years is totally different than before," Moriarty said.
"It's a lot of things to do, a lot of changes," Moriarty said. "We are grateful for these accomplishments, but none of this was done in a vacuum. And we're just getting started.
At the reception, Moriarty enthusiastically congratulated new manager Deann Hunter, who first joined LPL in 2003.
Hunter was the obvious choice to succeed Brough whether she was an insider rookie or not, Moriarty said in her remarks.
Also speaking at the reception, Hunter thanked Brough for her service and mentorship and described the growth trajectory she saw for the library.
"The library renovation was completed in 2005. A lot has changed in the way our community uses its library since then," Hunter said in his remarks. "We want to make sure that our existing spaces are used in the best possible way."
The increasing digitization of education, information, record keeping and research – among other things – has changed what people expect from libraries and what libraries offer users.
"The library is increasingly becoming a community center for people. People just come to visit and say hello, to use meeting space, or just to hang out," Hunter said in an interview. Additionally, customers are increasingly using electronic services for research and reading, such as e-books and audio books.
Understanding this changing role in the community is driving future library space planning initiatives.
The library is reviewing "which spaces aren't being used the way they could be, not being fully utilized," Hunter said. Certain spaces, such as the reference room, could be repurposed to better support the ways patrons actively engage with the library.
At the same time, the library still serves its customers in more traditional ways, whether through the circulation of books or free access to computers and the Internet.
The library is therefore responsible for preserving and improving its ability to provide the traditional functions of a library while allowing it to evolve with the needs and interests of the community.
"Books will always be a big part of the library," Hunter said.
Moriarty said it was his personal mission that the library be able to look forward and backward alike.
"Librarians are seen as an artifact of history, which is not accurate," he said. "The staff understand with ease the balance between the traditional and constant services of the library and the ever-changing role it plays in serving the community."
Hunter said that in addition to the space layout, she's excited about the "kids room overhaul," which involves both cosmetic updates and an influx of new toys for their children's space. game-based learning.
Overall, she hopes to "spread the word" about what the library has to offer to members of the community, especially those who are currently underutilizing its resources. Whether it's free wifi, help with computers, copiers, scanners, printers, meeting rooms, advice for research projects, or even just a place quiet, libraries have something for everyone, she said.
Moriarty said LPL veterans and new hires are assets in this new chapter.
"We're lucky to have staff with the longevity that we have," Moriarty said. At the same time, merging that with new faces and new energy is also a payoff.
"The best is yet to come," Moriarty said.