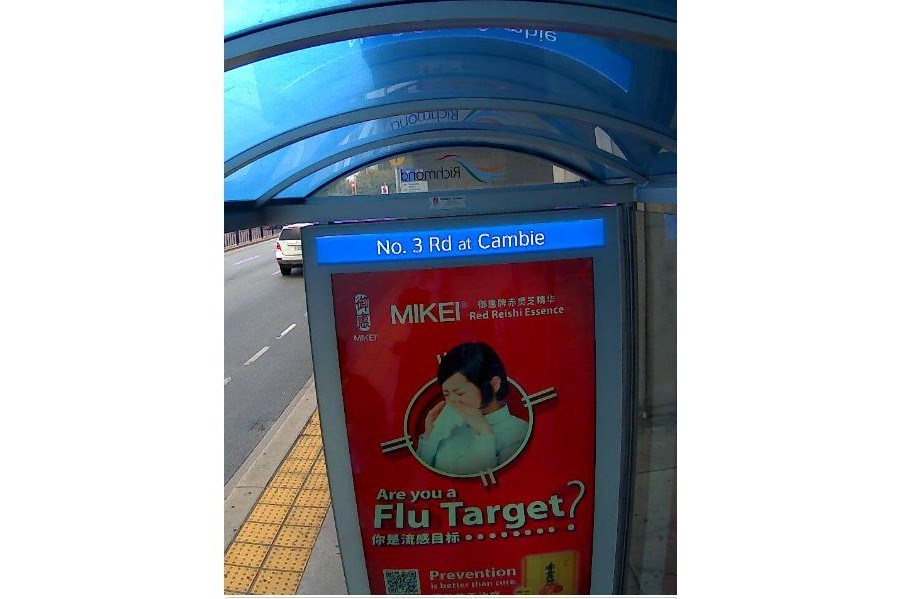 Cameras in Richmond bus shelters for "maintenance", city says
The "digital bus shelters" were installed in 2018 as part of a two-year pilot project
Cameras mounted in 10 Richmond bus shelters are only there to verify maintenance – not to acquire people's pictures or personal data, according to the City of Richmond.
The "digital bus shelters" were installed in 2018 as part of a two-year pilot project, and a report on the program, along with recommendations on its continuation, will be "prepared for council in the coming weeks", said the City. Richmond spokesperson Clay Adams.
The cameras appeared after Ice cream media reported that cameras in Vancouver transit stop advertising displays are no longer concealed as promised, and that more such displays are being installed.
Privacy concerns are once again raised with regard to the use of these cameras.
However, the companies involved maintain that Vancouver's cameras cannot be used to watch people or gather information about them.
The cameras at the shelters in Richmond are different from those in Vancouver, in that they are mounted in front of digital advertisements – apparently to verify maintenance – rather than on the advertisement frame.
The 10 digital transit displays in Richmond were installed as part of a deal with Pattison Outdoor, Adams said.
"These shelters have a camera on one end that is only used briefly at 4 am," he said. "It is also activated at this time because it is very unlikely that anyone is in the shelter. The city does not capture or exploit the images in any way.
"When activated at 4 a.m., they take a screenshot of the shelter to determine if maintenance is required and to verify the display of digital ads on the screen."
Adams said the shelters "also provide an environmental benefit of a reduced carbon footprint due to less vehicle use, as well as less ink, paper and other printing-related products."
The Richmond News contacted Pattison Outdoor for more information on the cameras and what they are used for, including whether they can collect personal data, but have not had a response at the time of posting.
Shelters have been installed at the following locations:
Route n ° 3 south of Saba
Route 3 north of Ackroyd
Route 3 north of Lansdowne
Route n ° 3 south of Cambie
Route 3 south of the Westminster Highway
Route 3 south of Alderbridge
Westminster Highway south of No. 3 Road
Cambie east of road no.3
Garden City Road north of Alderbridge
Granville at path n ° 3