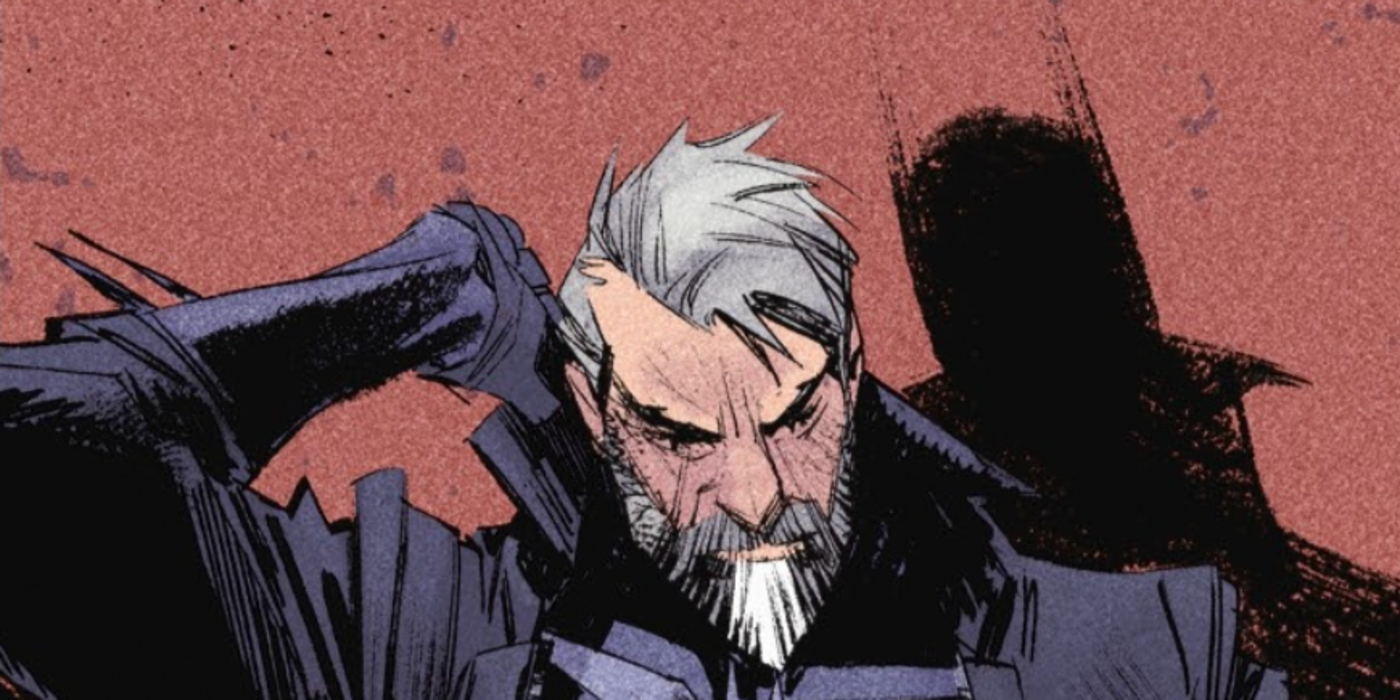 Batman clears his own symbol by donning new 'low-tech' armor
A fugitive from the villainous streets of Neo-Gotham, Bruce Wayne unearths a prototype analog Batsuit in issue 3 of Batman: Beyond the White Knight.
The latest issue of Batman: Beyond the White Knight features Bruce Wayne venturing off the grid in a low-tech Batsuit – and even going so far as to paint the suit's iconic yellow logo black.
Issues 2 and 3 of Sean Gordon Murphy's alternate take on the Batman mythos see Bruce Wayne in his 60s on a prison break, spurred on by the news that his family fortune has been abused by business magnate Derek Powers. Bruce donated his entire fortune to benefit Gotham City at the end of Batman: Curse of the White Knightbut it was used extensively by Powers to further his expanding business empire.
RELATED: Batman's New Robin Showcases His Incredible Costume
After his escape, Bruce instantly becomes a wanted man and is pursued through the streets and rooftops of an unknown Neo-Gotham by a special tactics team led by his former ward, Dick Grayson. Bruce's only companion is an artificial intelligence spawned from a microchip in his head that takes on the voice of Jack Napier, better known as the Joker. Despite a constant series of arguments with this inner voice, the former dark knight manages to fight his way to one of his refuges. There, he reveals an experimental Batsuit he developed before the Batman Beyond outfit. Earlier in the series, Derek Powers manipulated Terry McGinnis into stealing Batman Beyond's outfit from the ruins of the Batcave.
In the "Murphyverse", Bruce grew increasingly disillusioned with his Batman identity and learned that he wasn't even a true descendant of Wayne by the conclusion of Curse of the White Knight. Determined to defeat Powers without resorting to his old identity, Bruce paints the logo on his newly discovered prototype suit, telling the Joker's voice in his head, "…We're doing this without Batman."
RELATED: Acclaimed Batman, Joker Artist Lee Bermejo Reveals New Prestige Dark Knight Project
Bruce's prototype suit lacks the bells and whistles of his previous suits and is a far cry from the Beyond suit, which can turn invisible, fly, and eavesdrop on conversations using special sensors. Nonetheless, the suit's decidedly analog nature may serve Bruce well in hiding him from Neo-Gotham's digital cameras and sensors. "The knife and the Batarangs are ceramic," explains Bruce. "The rest is graphene, rubber and leather. The idea is to gain an advantage by going low tech."
Batman: Beyond the White Knight #3 comes from Murphy, Dave Stewart and AndWorld Design, with a variant cover by Dustin Nguyen. The issue is on sale now from DC.
Source: CC
Batman's Rogues Gallery shines in eight one-shots from A-List creative teams
Read more